Asphalt Shingle Roofing Services in Denver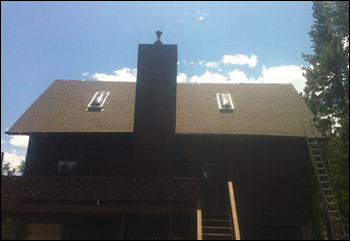 GAF and Owens Corning Shingles from AAM Roofing
Asphalt shingles have long been the primary product applied in residential roofing. There are two very notable manufacturers found in the Denver roof market, GAF and Owens Corning.
GAF is America's largest manufacturer of roofing and offers great products. 3tab shingles, which are flat and inexpensive, were the popular choice in the past, but Denver area residents have largely switched to the more architectural Timberline shingle. The Timberline offers better wind resistance for windy areas along Denver's west side and out east on the plains past Aurora.
Municipalities like Boulder, Arvada, Westminster, Lakewood and Thornton have adopted the International Building Codes which require a higher wind rating on products in areas that experience high wind. In 2007, GAF purchased ELKCorp and adopted the colors of Elk. Many roofing contractors in the area had long favored the great color scheme of the Elk shingles. With the fantastic technology and marketing of GAF combined with the best color scheme, GAF has become a local favorite. All GAF laminate products now offer a LIFETIME warranty.
Colorado is prone to roof-damaging wind and hail. GAF introduced a variant of the Timberline shingle appropriately named ArmorShield II. This new twist on asphalt shingle roofing provides an SBS additive, which makes the shingle more pliable and resistant to hail damage. United Laboratories, the leading testing agency for exterior products, has ranked ArmorShield with the highest impact resistance. Insurance companies recognize this impact resistance and favor hail resistant products like ArmorShield, allowing owners to receive insurance discounts every year. The Timberline shingle also offers wind resistance for gusts up to 130 mph! Denver and Colorado Springs residents are certainly aware of the strong gusts of winds that often pound the west side of town.
GAF has introduced popular Sequoia and triple thick trilaminate Grand Canyon shingles as a superior choice to attain the look of cedar shake shingles, without the fire hazard and weak impact resistance. GAF also offers some other great designer shingles for a unique and distinctive look. Call an AAM Roofing expert today to see the great GAF products. AAM is proud to have been selected by GAF as a factory approved roofer that offers superior warranty coverage not available from other contractors. AAM is your best choice for Roofing in Colorado!
Another option for asphalt shingle roofing is Owens Corning, with a local manufacturing and supply plant in the Denver area. Owens Corning has a similar product line like shingle manufacturers GAF, Certainteed and TAMKO. The Owens Corning Duration shingle line is a popular architectural shingle in the Denver market. AAM is also a leading installer of Owens Corning, Certainteed and TAMKO asphalt shingles.