Metal Shingle Roofing Services in Denver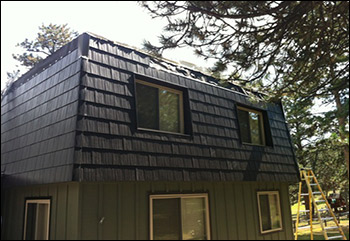 Think Green. AAM has 20 years of experience as a Denver roofing contractor and uses the most up-to-date, innovative products when it comes to your home. There are many benefits to choosing metal shingles over asphalt or wood types: they are more durable in harsh weather conditions, resilient over a longer period of time and easily recycled.
Metal roofs are often torn off and recycled when they are no longer usable, while most other roof products go straight to the landfill. Although asphalt shingles are also recyclable, only a small percentage of them make it to asphalt recycling yards. These recycling yards fill to capacity quickly, causing an environmental impact on a local and national scale. AAM is your Denver roofing source for installing Arrowline Edco Shingles. Arrowline offers a wonderful metal shingle roofing product that comes with one of the best warranties in the roofing industry.
See more about Arrowline Edco Metal Shingles here.
Decra Steel Roofing Systems offers a stone-coated steel shingle product that we have installed for many years. Installing these Denver metal roofing products requires special training and tools. AAM has the tools and the knowledge to make your Denver roofing installation go smoothly. We have earned an A+ rating with the BBB and are available for a free estimate.
See more about Decra Stone-Coated Shingles here.